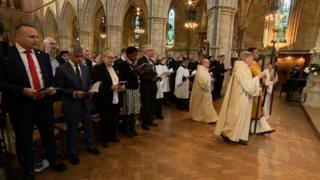 Memorial services are being held at Southwark Cathedral to mark the second anniversary of the London Bridge terror attack.
Eight people were killed and 48 seriously injured when three men drove into pedestrians before stabbing people in Borough Market on 3 June 2017.
An evensong began at 17:30 BST while a special prayer service will finish at 22:16 BST – the time the attack ended.
An inquest into the eight deaths has been adjourned until Tuesday.
Xavier Thomas, 45, Christine Archibald, 30, Sara Zelenak, 21, Sebastien Belanger, 36, James McMullan, 32, Kirsty Boden, 28, Alexandre Pigeard, 26, and Ignacio Echeverria, 39, were all killed in the attack.
The Old Bailey inquest into their deaths is on its 19th day of live evidence.
It has heard the attackers stalked people like "predators" and 12-inch pink kitchen knives which had been bought from a Lidl supermarket weeks earlier were used during the attack.
Lawyers representing several victims' families also told the inquest there were "opportunities galore" to identify that the London Bridge extremists were plotting an attack.
Khuram Shazad Butt, Rachid Redouane and Youssef Zaghba were shot by armed police at Borough Market during their rampage.
PC Wayne Marques, who confronted the three attackers with only his baton to protect him, gave a reading at evensong.
He was temporarily blinded in one eye as the three attackers slashed at him with their knives.
A tree been been planted in the churchyard using compost created from floral tributes laid on London Bridge in the aftermath of the attack.
The later prayer service will begin at 21:58, the time attack the began, and will conclude with a moment of silence at 22:16.
Borough Market is open as usual, but the market trustees said traders would be "quietly marking the second anniversary" with flags flying at half-mast.
The mayor of London said the anniversary would be "no less difficult" for those affected.
"Our thoughts are with the victims' families and all those who were injured," Sadiq Khan said.
Emergency services including the Met Police have also paid tribute to those who died, as well as recalling "the bravery of the officers and the public who confronted danger".